… is the name of an event taking place in Zielona Gora (the occupied house in Berlin, not the town in Poland) next wednesday (14.3), and i'm gladly bringing my support to it by playing those old crooked tunes once again and try to entertain people after they discussed the troubled situation in Italy.If the name wasn't clear enough, it's a soli-event gathering funds for repression costs towards italians anarchists, but also bringing us information from up there and providing space for debate. Along with food. And live music, then. Hooray.
Here's the complete program:
19:00 yummy vegan fried (!) pizzas and info table about the movement and repression
20:00 informations and debate on the topic « The new far right scene in Italy: action and reaction of the antifa movement »
And afterwards… Yours truly live on quasi-stage.
So come along, get informed, show your solidarity!
Note that children are welcome ; the place is smoke free until 22:00.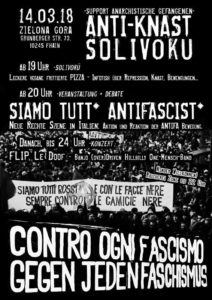 Zielona Gora Grünebergerstr. 73, F'hain